My mom's birthday is this month, and I've wanted to make her some cute placemats for her birthday. The idea I had was to make reversible placemats for two holidays. I originally had this idea for Christmas, but I didn't have time to make them as a Christmas gift, so I thought I'd make an early birthday gift instead. These placemats are (Peanuts!) Valentine's Day-St. Patrick's Day themed. My mom and I love Peanuts, so when I saw this fabric, I knew they'd be perfect. I based them off of the tutorial here.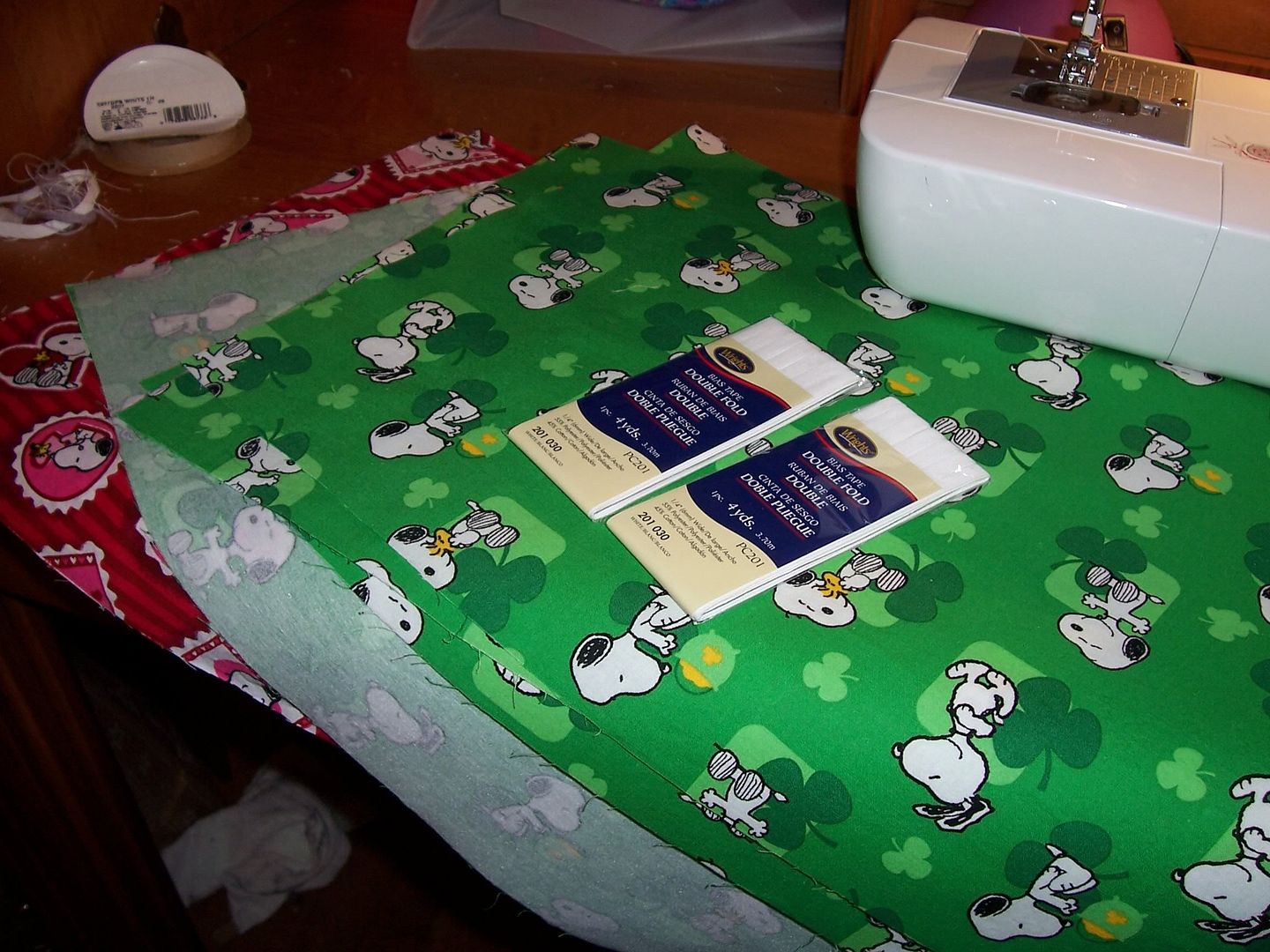 I was very uncomfortable cutting through poor little Snoopy

'

s face.
For four 12" x 18" placemats, you need
1 yd each of two fabrics

light- or medium-weight fusible interfacing

7 – 8 yd of ¼" double folded binding
First off, pre-wash, dry, and press your fabric. Then cut out four 12" x 18" rectangles from each fabric. This is a lot easier if you have a rotary cutter and mat. Unfortunately, mine are two states away right now, so my edges aren't exactly straight. Remember to pay attention to your cutting if your fabric is directional.
Cut out four 12" x 18" pieces of your interfacing and fuse to four of your fabric pieces according to the manufacturer's instructions. I chose to fuse to the St. Patrick's Day fabric, but it doesn't really matter which one you pick as long as you're consistent.
Pin two sides of your placemat together, wrong sides together. If you're bad at using scissors, like me, trim up uneven sides so they approximately match up.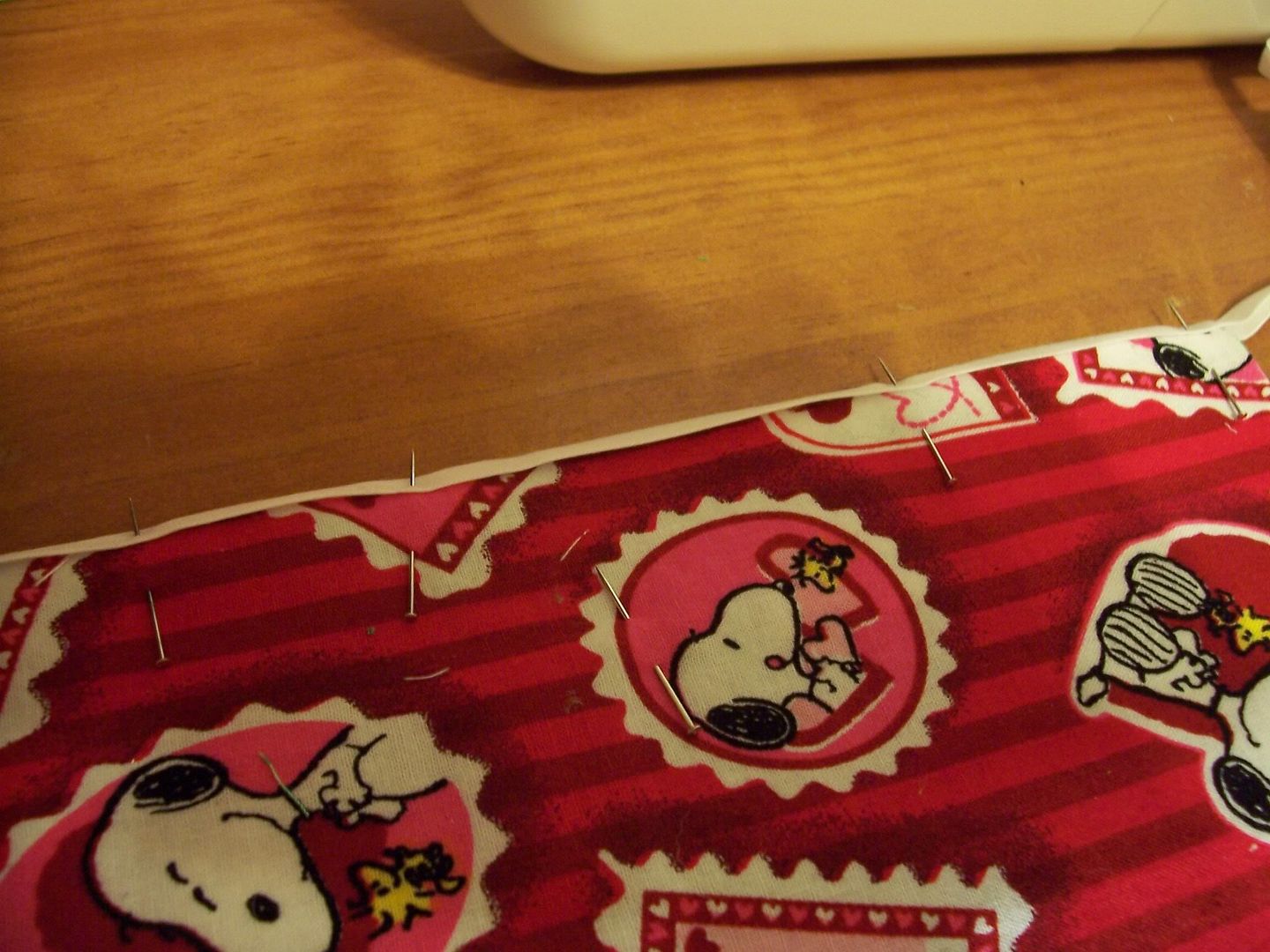 Insert the edges of your pinned placemats into the bias and pin in place. When looking at your bias tape, you'll notice that one end is slightly shorter than the other. Remember which side that is because you'll be sewing with that side up. I started pinning the bias tape in the middle of the bottom of the placemat. (The St. Patrick's Day fabric is one-directional.)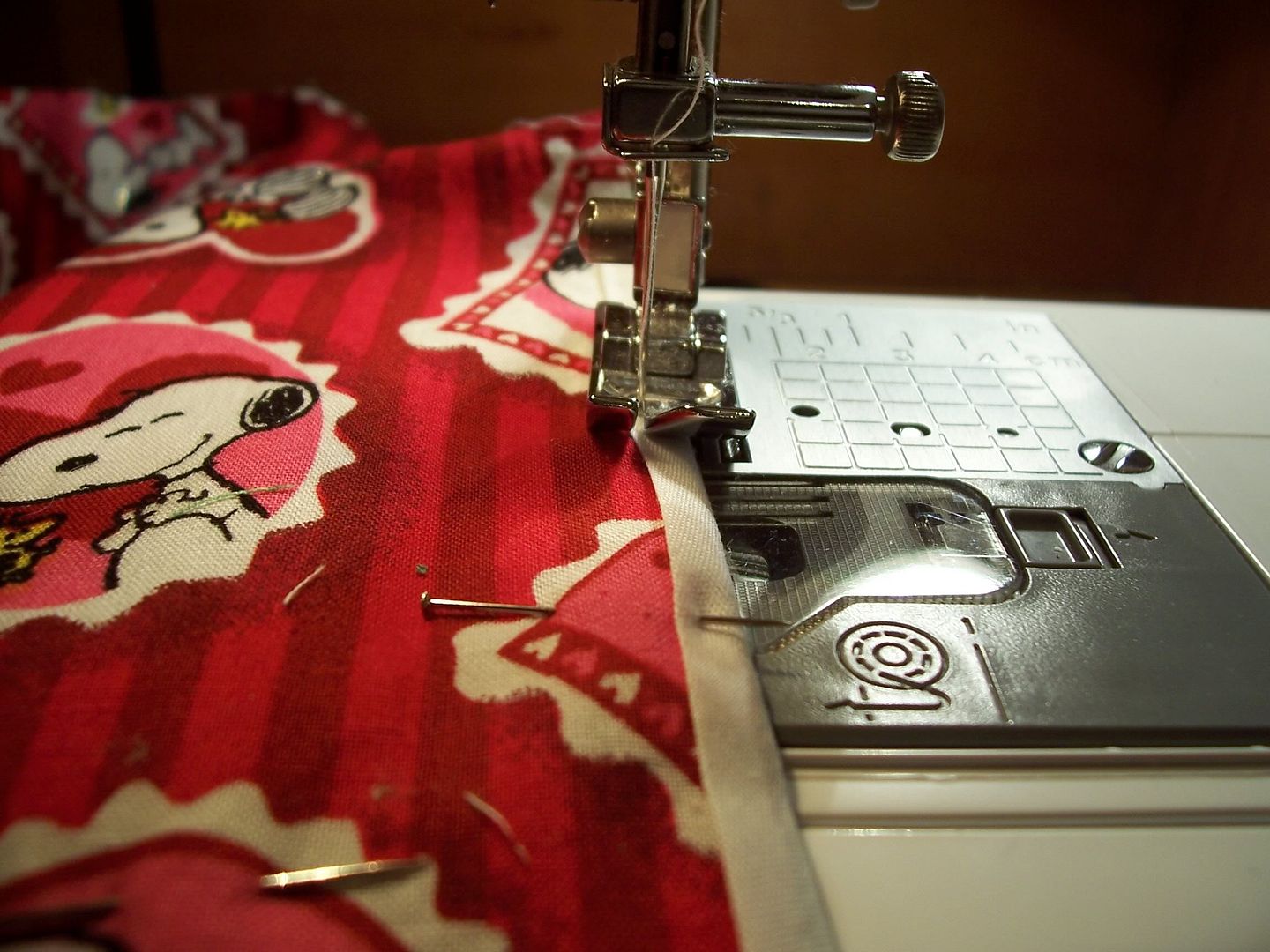 Sew as close to the edge of the shorter side as possible. Because my skills aren't all that great, I'm not able to sew as close as I'd like to because it makes my drunken stitches more obvious. I need more practice.
When you get to a corner, keep sewing until the edge. Backstitch and cut your threads.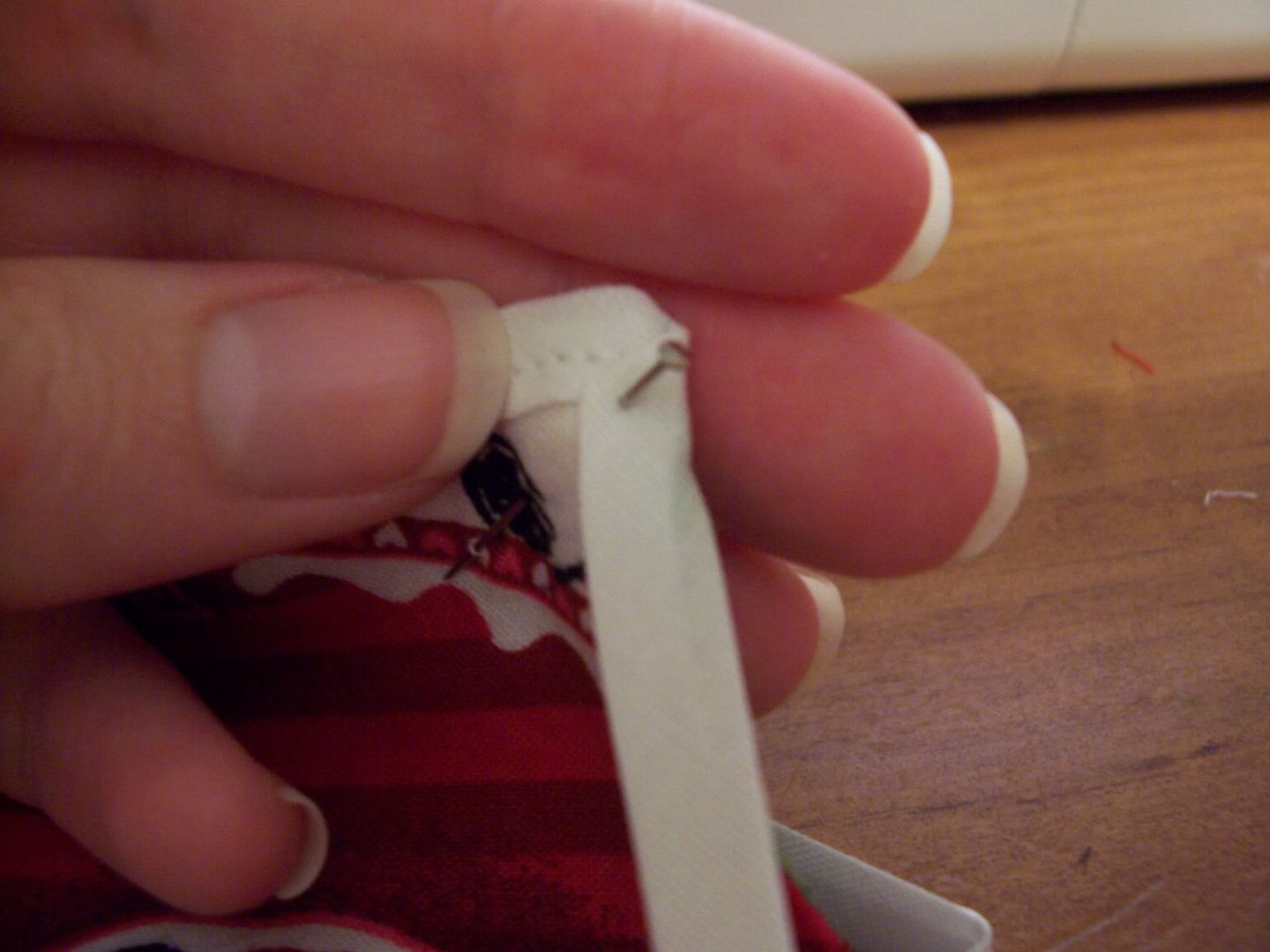 Fold the tape along the corner and fold in the excess fabric. Pin in place. This creates a faux-mitered corner. Return to your sewing machine and backstitch along your previous stitching line until you get close to the faux-mitered corner. Raise your presser foot and pivot. Lower your presser foot and continue stitching as before.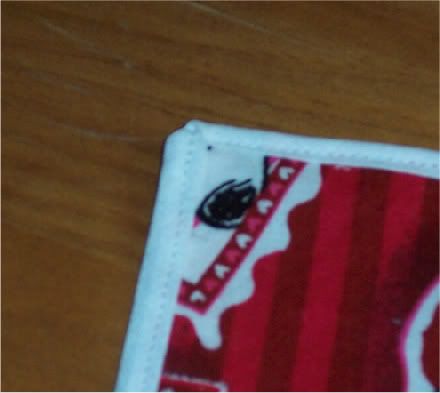 A little blurry, but you get the idea
Repeat for other three corners.
I forgot to take pictures of the last step (this whole picture tutorial thing is still new to me), but there are (better) illustrations in the tutorial I linked above. When you get back to your starting point, cut off the binding, overlapping by half an inch or so, and fold in the raw edge. Line up the edges on both sides to match the beginning, and stitch in place to match the original stitching line. Backstitch and trim your threads.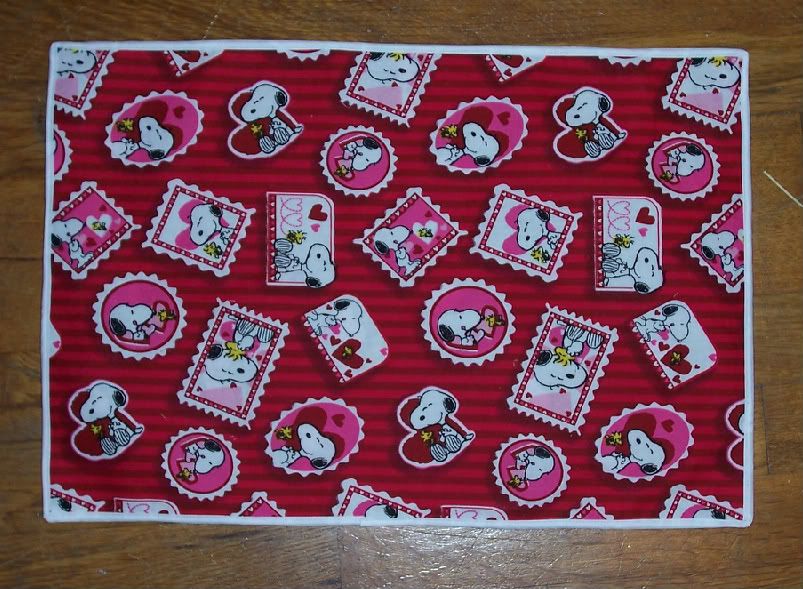 Valentine
's Day Side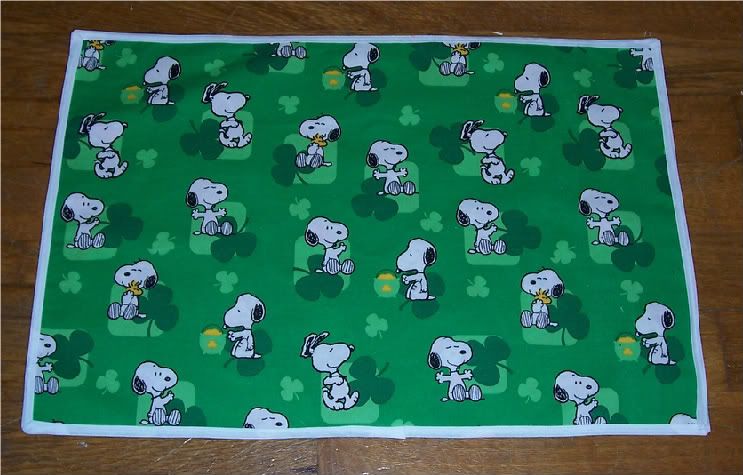 St. Patrick
'

s Day side
You now have one finished reversible placemat! Repeat for as many placemats as you desire.
You'll notice I'm not zooming in on the edges on the St. Patrick's Day side. That was on purpose. It doesn't look as nice as the Valentine's Day side. It'll get better with practice, though, I'm sure. (Plus, who's going to be looking at my poor binding techniques when you have cute little Snoopy and Woodstock there!)
Now I get to figure out what cute things to make with the leftover fabric! :D